101st Airborne Division Association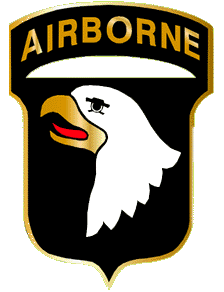 Midwest Chapter

Well another great reunion is over. We want to thank everyone who came and those of you who could not. We will be looking forward to seeing you at next years reunion. We will try and keep you updated of all info regarding the 54th reunion. If you are not a member of the 101st Airborne Association and would like to become one then go to the Membership Application form and print the form and mail it back.
View the 101st Airborne Division Association Fort Campbell Monument Committee. If you would like to read what Tom Taylor, Fund Director, has to say about raising the funds please follow this link.
If you would like to make a donation to the building fund of the 101st Memorial Monument at Ft. Campbell, KY, follow this link. Your donation is TAX DEDUCTIBLE. You can view the monument here
A new WWII game has been developed by ISI and distributed by Empire Interactive called
101: The Airborne Invasion of Normandy. I have played this game and it is by far one of the most realistic battle simulation games I have ever played. I have done a web page for the game it is located here http://www.wargamer.com/101

Here is a listing of the 101st Airborne Division Association Officers.



Click here to view Links to Related Sites

Please click to Sign My Guestbook or View My Guestbook
You are the

Screaming Eagle to access this site.
E-Mail the Webmaster
I have noticed a lot of people wanting to find lost friends and have had no luck. Here is link to Four11.com. If they cannot find the person there are other search engines that could probably help.
The reunion was hosted by the Midwest Chapter.
Pres: Terry "Randy" Zahn, Sr.
9836 Rainleaf Ct.
Columbia, MD 21046
(301) 498-9829
Sec. Treasurer: Chuck Luczynski
5634 S. 139th St
Omaha, NE 68137
(402) 895-9349
This is the official page for information on the reunion. Please create a bookmark and check back occasionally. More information will be added in the coming weeks and months.
AIRBORNE
AIR ASSAULT

This Page was last edited on 01/12/99.